BookinGO – office resource management systems
The office reality has been evolving exponentially in recent years, greatly influenced by the pandemic. Many businesses, including furniture manufacturers, have had to adapt to the new expectations of their employees, primarily regarding remote and hybrid work modes.
Plenty of companies are still trying to implement the most effective solutions to "combine" those working from home and the ones in the office. How can BookinGO offered by MARO Office Furniture Factory help your company to organize?
BookinGO – a system offered by MARO Office Furniture
BookinGO is a collection of complex office solutions that will help you manage various resources in your office - conference rooms, workstations and parking places. The system also allows you to create customized booking modules and define new types of resources. This automatizes processes, and thus, boosts efficiency and productivity. Thanks to that, you will make the most of the available company resources. BookinGO provides the managers with all the needed information and data. Such a solution also reduces costs.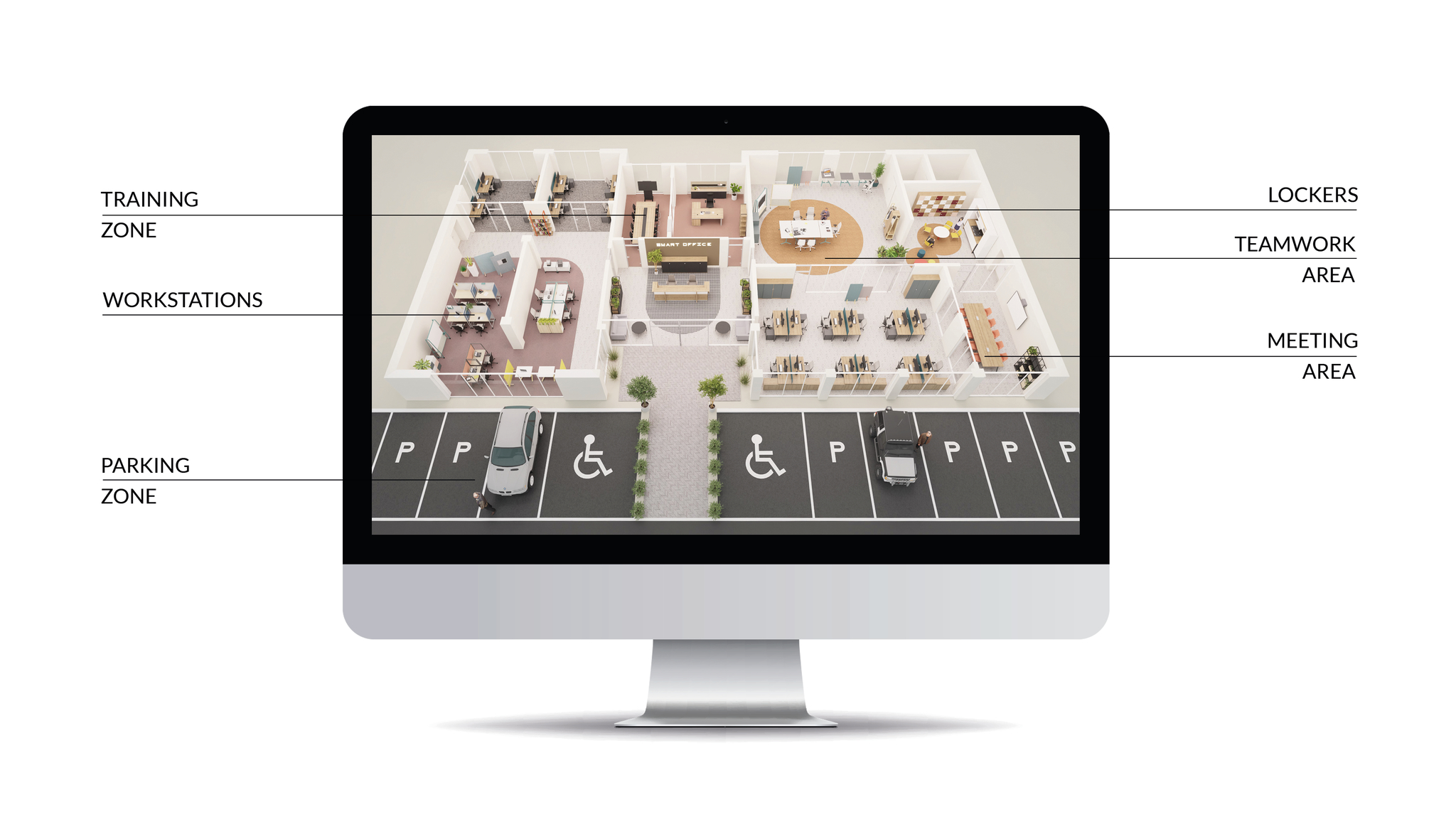 Meeting space management
Our intuitive system features a convenient interface of touch panels, a mobile app, a website and inbox. These tools enable you to conveniently book the resources in your office. BookinGO offers a number of complex functionalities, which allow for efficient space management. You can find a room that will suit your particular needs and then book it once or on a recurring basis. The touch panels that inform you about the room's availability work very well. The key advantages of this solution include the convenience of settling meetings by taking a having insight into other employees' agendas.
Workstation management
BookinGO also allows for optimal management of available workstations in any modern office. In such spaces, it is becoming less and less common to assign desks to individual employees. For this reason, it is worth using smart tools to make the most of the available resources. The best solution for hybrid work, coworking and desk sharing is a desk reservation system. It is based on functional ways to quickly book workstations in a mobile application interconnected with the company's software. Thanks to this app, your employees will quickly be able to check which workstations are available. They can choose a space that suits their current tasks (in line with Activity Based Working).
Locker management
Thanks to BookinGO, you can also manage lockers. The state-of-the-art system offers keyless locker access using a touch panel, smartphone, online cloud or local infrastructure. But that's not all - mobile employees can book lockers using a remote reservation system. Integrating it into the company's software for comprehensive management and monitoring does not pose a major problem. An Office Administrator can assign access to the lockers with a simple online interface that can be used from any location in the world.
BookinGO packages
When opting for MARO's offer, you should select one of three packages: BookinGO Conference, BookinGO Desk + Park or BookinGO Premium. Each option provides the possibility of system customization. The first package includes conference space reservation with a status display, while the second one features a space mapping service, desk and parking reservations, and (for an extra fee) an access kiosk for those who do not have company smartphones. BookinGO Premium includes all of the features.

Summary
As mentioned earlier, office resource management systems support entrepreneurs who opt to build a hybrid culture in their companies. Why is it a good idea? It's because a hybrid office is a space that adapts to the user and assumes that everything can be arranged in a much smaller space. The tools such as BookinGO are used for both teamwork and individual work. MARO Office Furniture Factory prioritizes modernity, offering its clients the most efficient solutions.