Impact of proper acoustics on employee well-being
Noise pollution is a massive worldwide concern affecting us both outdoors as well as in indoor spaces, where we spend a significant part of our time. Many governmental organizations, including the WHO, are researching this issue.
How to create the right environment for office work?
The producers of acoustic solutions are coming with help. They offer desk partition screens, acoustic panels, booths, cabins and all kinds of sofas and seats with shields designed to absorb excessive noise. MARO Office Furniture Factory, based on many years of experience in the production of office furniture, has introduced a new collection of acoustic absorbers that ensure the right level of absorption of damaging sounds in work spaces.
AcuPro and CubiSound collections have been independently tested for sound absorption properties and have received the highest possible class - A. In addition, their undisputed advantage is their modularity and the use of sustainable, recycled materials. Moreover, thanks to such products as SafeSpot, ConScape and AcuStixx every client can find not only high-quality, but also stylish acoustic solutions for their office.
How important is silence in the office?
You should remember that the noise impact may vary from person to person. Some sounds may remain unnoticed by most people, whereas others might find them intrusive. Note that noise is not always about very loud sounds such as heavy traffic outside the window or the sound of operating machinery. It is also about all sorts of annoying sounds of various frequencies.
Noise is a particular nuisance in office spaces, where the intensity of diverse sounds tends to be quite high. Namely, conversations between coworkers, the sounds of office appliances and ringing phones. Sadly, there is no way to eliminate noise from the office completely. However, there are ways to reduce its negative impact on employees. Not only does continuous noise adversely affect the ability to focus, but it also jeopardizes our mental health. That is why, it is essential to consider the need for proper acoustic environment when designing a work space.
MARO Office Furniture Factory's offer - the answer to your noise problems
There is an array of possible solutions to reduce noise levels in the office. In addition to setting up so-called "quiet zones", it will also be effective to equip rooms with acoustic furniture and accessories. There are many types of such furnishings, some of which can be found in MARO's offer of office furniture.
Wall and ceiling absorbers are designed to soundproof rooms, essentially by absorbing sound. Currently, MARO offers two types of absorbers: AcuPro and CubiSound. CubiSound panels come also in a pendant version allowing us to attend to room acoustics without compromising the usable floor space.
Acoustic booths are the ideal solution for open-plan office spaces. They allow you to separate your unobstructed office space for online meetings and phone calls. They are also perfect for those employees who work on projects that require maximum concentration.
Acoustic seating is an excellent solution for shared areas for relaxation. The seats will also prove very useful in other office spaces. They can serve as the perfect spot for shorter chats between employees. In MARO's offer SafeSpot sofas are highly customizable. The plethora of available colors of upholstery and frames makes them suit any office. Additionally, they come in a few shapes: straight, L-shaped and U-shaped with the option to fit a work top. As a result, thanks to them, it is easier to hold meetings in larger groups.
Desk partition screens are an extra element that affects the acoustics of the room positively. These not only provide additional soundproofing, but also separate private space for employees, thus greatly benefiting their well-being too.
Expenses related to bad acoustics in your office
Multiple factors affect our efficiency at work. Bad acoustics in the workplace has a negative impact not only on the employee's physical condition, but also their productivity. An employee exposed to constant noise and distracting conversations struggles to stay focused, thus the quality of their work drops and the time to complete their task increases. This results in financial losses for the employer. Given that the monthly employer's cost of hiring a high-skilled employee is PLN 13,000 and the drop in their productivity due to poor acoustic conditions is 30%, we can estimate the monthly loss to the company at about PLN 4,000. If the company employs 10 high-qualified employees, the annual loss can reach as much as PLN 500,000. While this example is simplified, it clearly illustrates how important it should be for any office space designer to properly select acoustic furniture.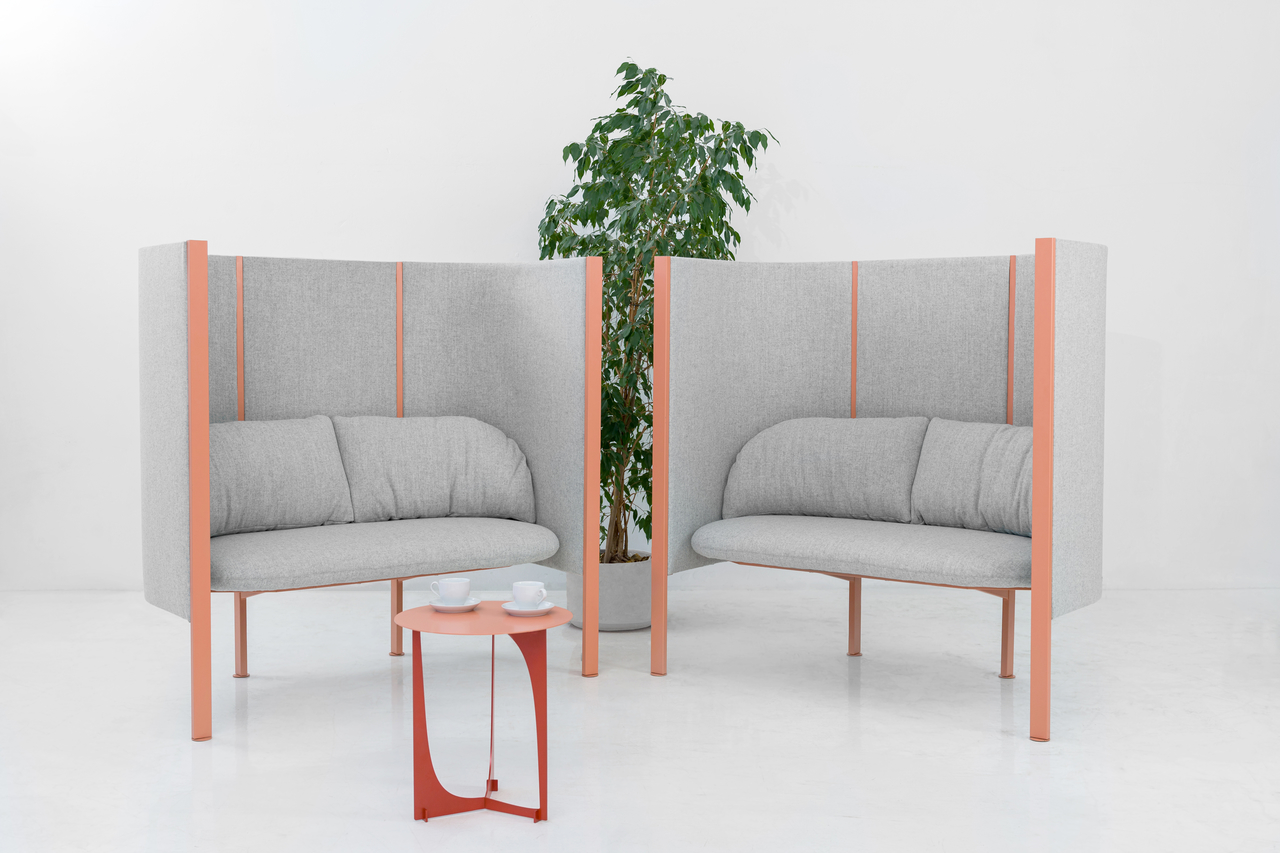 Designing an acoustically adapted office
Creating an office that is well suited to the needs of employees is no mean feat, therefore it is worth paying attention to good office acoustics at the design stage. Proper sound insulation with the use of the right materials and a well-designed space layout, which fosters good acoustics, can help create a pleasant working environment. Thanks to that, your employees can focus on performing their tasks smoothly, which can, in turn, boost their efficiency and overall well-being in the workplace.
Optimizing a space in terms of sound absorption properties should be one of the issues addressed as early as at the design stage. There is growing awareness among real estate developers about sound insulation. Nowadays, they recognize that it is nearly equally essential as energy efficiency and fire safety. In the initial design stage, we can eliminate a significant amount of noise sources with damaging frequencies. However, we must be mindful of some key principles of acoustic optimization.
First of all, it is necessary to identify the sources of sounds with the highest intensity. If we are aware of that, it will be easier to decide on the appropriate insulation materials in each building zone. For this process, it is important to remember that the human ear is more sensitive to high-frequency sounds.
In theory, when designing office spaces, we put more emphasis on access to daylight than proper acoustics. However, the right positioning of windows can also prove crucial to sound absorption.
All the actions mentioned above have one paramount goal that is to create an employee-friendly work environment. The right acoustics is one of the factors which allows us to boost productivity and work comfort for the mutual benefit of employees and employers.
Summary
These days, more and more space designers stress out the importance of adapting offices to the acoustic needs of employees. MARO office furniture producer is well aware of this phenomenon and therefore has introduced brand-new pieces of acoustic furniture to its offer. Noise has a negative impact on the employees' health, which is why it is so relevant to provide them with suitable work conditions. As early as during the office design stage, it is recommended to give some thought to what types of acoustic solutions will work best in our office as doing so will spare a lot of expenses in the future.