Zones in a modern office
Proper space management is crucial in any modern office. It should be divided into zones that fulfill different functions, but all together form a coherent, organized whole. What matters is not only the design of the rooms, but also whether the employees benefit from the space and whether the office furniture is selected well. If it is, carrying out daily duties becomes much easier and more enjoyable and productivity rises. Check out what you should know regarding office zones.
Key office space and office furniture
Creating a maximally functional office space is not as easy as it may seem. A well-oiled machine with all the cogs working can serve as a particularly good illustration. If an element malfunctions, the whole structure is impacted negatively. It is therefore essential to attend to each and every component. At the company's office, these cogs are zones. At the very beginning, we must mention the most important of them - the workstation zone. This is where employees spend most of their time - they perform their duties, develop new projects and work creatively. In order to help them fulfill their potential, it is absolutely necessary to provide them with access to the right office furniture. MARO Office Furniture Factory has for many years been a well-established expert in this field. It is difficult to imagine intellectual work without a desk. An office desk should be ergonomic, practical, durable and customized. A wide range of desks is now a common standard among the furniture manufacturers on the market. We are talking not only about modern, custom-made desks with electric height adjustment, but also with diverse top shapes. This makes their users feel very comfortable while performing their duties.
Open-plan office space
It is not uncommon for a workstation zone to also include open-plan spaces with team desks. Thanks to them, employees can work in teams and individually, depending on the situation and their current needs. In this zone, it proves incredibly useful to have office furniture for space division. Aura or Diviso collections from MARO can come in handy. When arranging this room, it is worth getting a set of shelf units, which constitute a complete system of modern, high-end furniture. They give the interior a unique character. They are a decoration used for separating new spaces. They are modular, have openwork construction and feature an extensive collection of accessories such as panels, shelves and cabinets, which allows unlimited configuration changes. Diviso partitions have a durable and robust structure, based on a screwed metal profile. Desk partitions prove also exceptionally helpful in dividing open spaces, allowing you to separate workstations. They guarantee a sense of privacy, even in two-person desks. In MARO Office Furniture Factory, you can find upholstered and panel board partitions, whose fabrics effectively absorb sounds.
Conference room – the hallmark of your office
A conference room is essential in a modern office. It is a kind of showpiece of the company - after all, this is the place where visitors are received and the most important meetings are held. That is why it is worth making sure that this part of your office is unique and functional, and above all eye-pleasing. A table is the centerpiece of any conference room, therefore we ought to dedicate a little more time to select the right one. MARO conference tables will be the best choice, particularly the models from Ario collection. They impress with their extraordinary design. They combine precious materials such as polished stone, veneer and leather. The line features not only one-piece tables, but also two-piece ones - they can be extended with dedicated modules. A stripe finishing the edge of the top and legs is an extra decorative element. Ario conference tables are also equipped with vertical and horizontal cable channels and custom netboxes.
Chillout and entertainment zones
Every employee needs a pause during their working day. It is virtually impossible to stay focused for the entire 8 hours. For this reason, office chillout rooms are an excellent idea to reset your mind and relax. They can also provide entertainment and be a platform for building good rapport among employees. Such spaces boost their level of satisfaction and, as a result, their productivity. This is because they feel that they are treated as people, not robots, and it is important for the employer to make them feel good. The chillout zone should include carefully chosen office furniture such as the previously mentioned Aura shelf units. They provide space for potted plants, which are considered beneficial to everyone's well-being. A low Aura module combined with an upholstered pad, on the other hand, can serve as a seat. Comfortable armchairs, sofas and high tables, like Idea H, are also highly recommended. They feature frames supported by a slim, rectangular leg and a footrest made of brushed stainless steel. The geometric frame guarantees their robustness. In the chillout zone, it is also worth making room for foosball or table tennis tables, as they not only help employees socialize, but are entertaining as well.
Office space for maximum focus
The focus zone, as the name suggests, is designed for people who need maximum concentration. For this purpose, it is necessary to get rid of all unwanted distractors and provide the employee with peace and quiet and a space that fosters concentration. The key thing is to keep the noise level low. Acoustic walls, which effectively absorb sounds, prove to be extremely useful in such zones. They are available in standalone versions (equipped with feet) and in mobile ones (with castors). A wide range of sizes allows to set them up independently or create whole sets matching other office furniture. The soft surface of the walls allows for pinning up notes and creating inspirational moodboards. Our desk partition screens are also splendid for focus zones.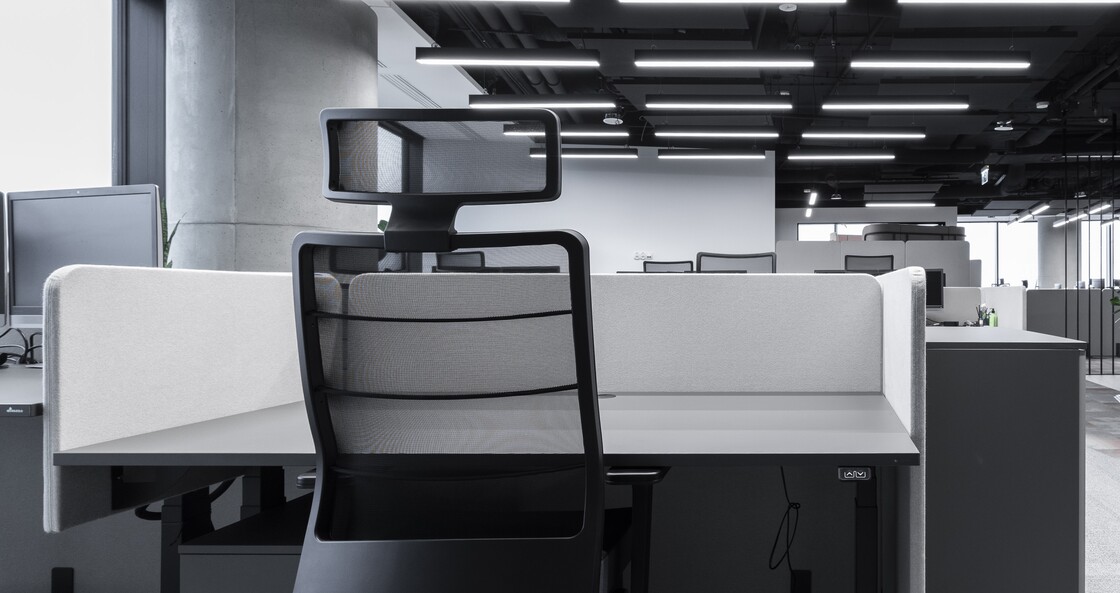 Wariant furniture – universal and functional
When describing office zones, it is impossible not to mention MARO furniture from Wariant collection. It creates almost infinite possibilities of space arrangement - depending on the needs of employees in different situations. The desks with high partitions are available in three options: with fixed top height, with electric top height adjustment and with pneumatic top height adjustment. They are designed with multifunctionality in mind. The structure of the desk and the option to panel the sides guarantees a sense of privacy while not impeding the flow of team communication. The Meeting Place is perfect for a conference room. It is a mobile version of a conference table that can be freely moved.